DELIVERING BETTER SOLUTIONS TODAY

HPS Contract 575 for bariatric equipment, therapeutic surfaces, fall prevention, Matrix, Carroll Spirit, Accora, Posey, negative pressure wound therapy, and more.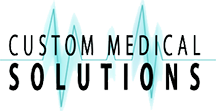 Custom Medical Solutions is a leading distributor of health care equipment, servicing LTACs, LTC, acute care, rehab facilities and home care organizations.
Our goal is to offer the most advanced and research-based technologies, while being mindful of the financial constraints of your long- and short-term needs. Our team of experts is constantly updating our products to offer the most current innovations in:
Wound Care
Fall Prevention
Bariatric Management
Critical Care Equipment
We've taken the time to understand the challenges our customers face and provide revolutionary products to meet the unique demands of every market segment.
We remain committed to improving patient and caregiver experiences, while understanding the balance in dealing with regulatory and legal risk of managing more complex patients with fewer resources.