YOU SHARE THE LOVE, WE SHARE THE MILK!

HPS Contract 580 for milk & dairy products: Dairy Pure, Silk, Orchid Pure, Yoplait, Land O'Lakes, Deans, TruMoo, milk, flavored milk, fat-free, lactose-free, whip cream, yogurt, sour cream and more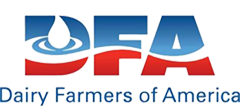 OUR VISION: Enriching Communities and Consumers' Lives Through All the Possibilities of Dairy
We are a purpose-driven organization, starting with providing the world with nature's most perfect food: milk. Our cooperative brings opportunities for rural communities to thrive, shares nourishment with those in need, preserves our natural resources and fuels many of life's greatest memories.
OUR MISSION: Deliver Value to Our Family Farm-Owners as a Global Dairy Cooperative
The family farmers who own Dairy Farmers of America are all united in their shared passion for dairy, and at the same time, all have different needs. As an organization, we deliver value to our family farms so they can continue to thrive for generations.