BUILD - CLEAN - MAINTAIN - RESTORE

HPS Contract 569 for handyman services, single source solution for building maintenance, cleaning and more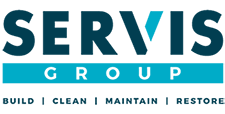 We are one team, meeting every need, for every space, at any moment.
A successful facility requires proper care and attention in order to create an environment that promotes efficiency, productivity and performance. At Servis, our family of businesses provides you with all the assistance you need to keep your property cleaned, maintained and repaired.
We ensure each job is completed with a commitment to honesty and integrity. Whether you need carpet cleaning, building maintenance, janitorial services, construction or property damage restoration, our professional teams work together, across our businesses, to provide you with the highest quality workmanship and exceptional customer service.
Equipped with a team of experienced professionals, we provide you with a single source solution for all your contractor needs. We work with you to determine the best plan of action to ensure you have the right cleaning, maintenance, and repair solutions for your business.