EXTRA LIFE OR EXTRA POWER

Duracell/Procell Batteries
HPS Contract 567 for the highest quality and longest lasting alkaline batteries in the North American industrial and medical battery market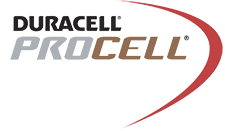 Duracell/Procell is a premium professional battery brand, exclusively serving the professional market. As a result, our alkaline batteries are used by millions of professional end-users and leading professional OEMs (Original Equipment Manufacturers) around the world for their quality, reliability, performance and service.
Our alkaline batteries are manufactured using superior cell design (vs. prior Duracell/Procell Alkaline AA, AAA, C and D batteries), ensuring our highest quality cell construction.
Batteries are tested in order to guarantee highest quality and reliable performance. Environmental testing is also conducted to ensure dependable and consistent use.