EVERYTHING YOU NEED IN ONE PLACE

To get the most value from your HPS membership, visit the Member-only side of hpsgpo.com often. This is where you learn about all the contracts and Value-Added Services and Tools you joined HPS for.

Remember, whenever you need something, check our contracts first. 
SITE FEATURES
Anyone from your organization who needs access to the site is able to do so with their own username and password.
Your Region Manager and FFE Customer Service Reps contact info is prominently displayed.
All pricing, contact and ordering information for all of our contracts is on the site.
Request product quotes through our Furniture, Finishes & Equipment group.
Come to the site often for the latest news and contract updates in the Latest News section.

---
CONNECT WITH OUR

Value-Added Services
Furniture, Finishes & Equipment
Interior Design
Value-Added Tools
Contract Analysis Tool
Menu Planner
Nutrition & Buy American information
Procurement documents
---
REFINED SEARCH

Search for any vendor name, contract number or product type from any page.
Searching for "bean" or "chalk," for example, will display all contracts with those words.
Narrow your search by downloading the contract's Price List, hitting "Ctrl + F," then entering the word you searched for—all entries on the Price List will be identified, allowing you to find the product you want and its price.
SETTING UP YOUR ACCOUNT
Go to hpsgpo.com, click "Member Login" in the upper, right corner, then click "HPS Member Site."
The Member Login Box will pop up. Do not enter your email and password, but rather click "Register for an Account" below the login bar.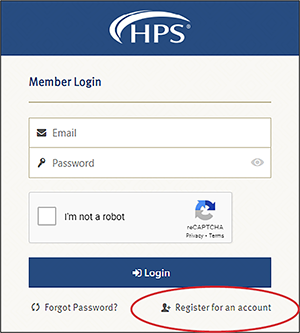 Delete any info that prepopulates the next pop-up box. Then fill in all the blanks with your info.
Use the Access Code from your "Welcome to the HPS Family" email.
You will then receive a confirmation email. Follow the link from that email to complete the process.
Contact [email protected] for assistance.

---
EXPLORE THE MENU
Click the Menu button in the upper, right corner to explore everything on the site, from publications to contact information and everything else.